Make Period Tracking Part of Your Routine: There's an App for That!
Jessica Lubahn 11 min read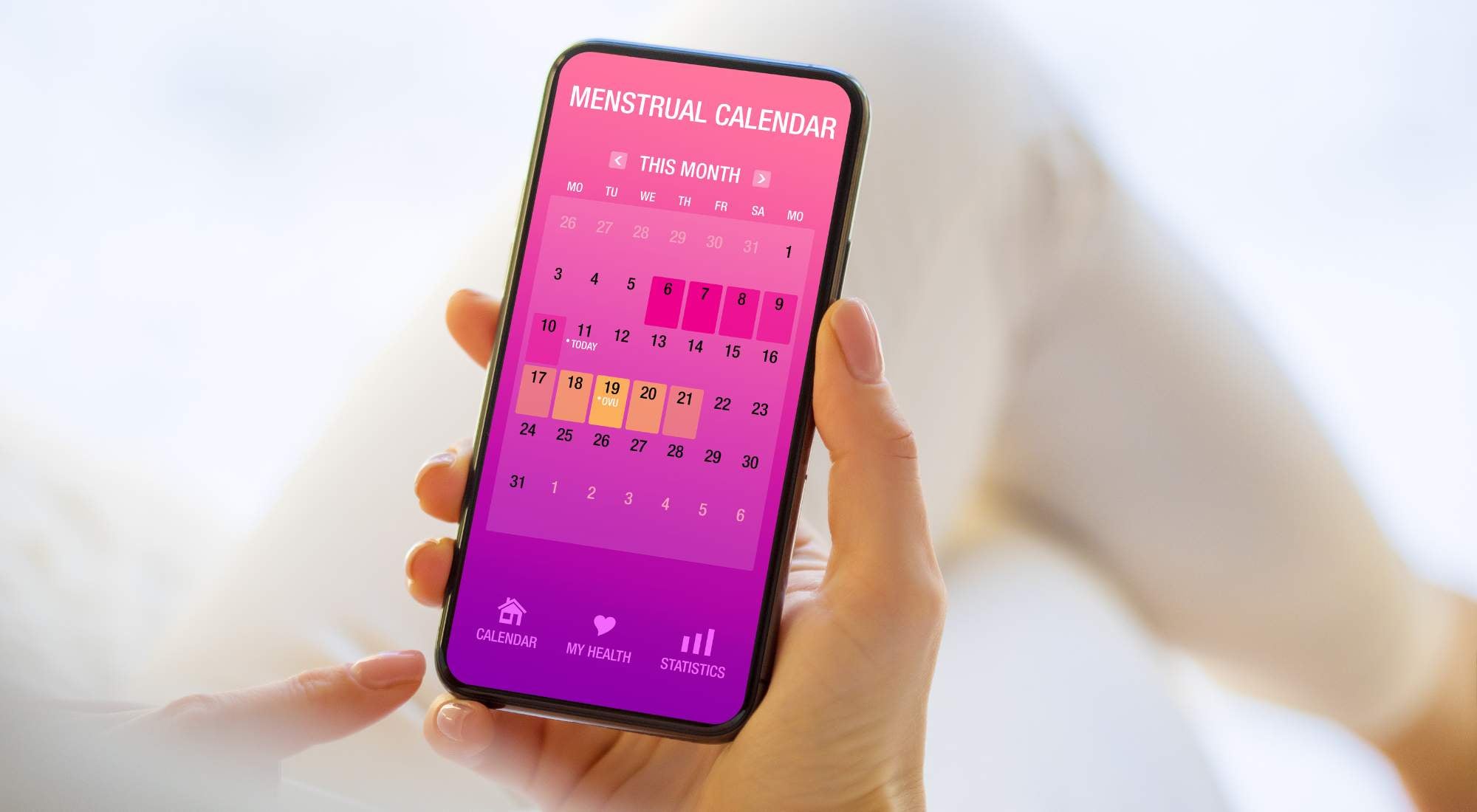 Staying connected with friends and family. 
Listening to your favorite podcast. 
Even charting how much water you drink each day. 
These days, there's an app for just about everything — including tracking your period.
A period tracking app can help you plan or prevent pregnancy, track your symptoms, and feel more in tune with how your body works. 
If you want to avoid the guessing game and mental math of trying to track that time of the month, we're here to help. 
Here's our list of the 14 best period tracker apps, so you can easily choose the one that's right for you.
Table of Contents
First and Foremost: The Best Period Tracker Apps Are Those That Won't Sell Your Data
On your quest to find the best app to track your period, this is definitely something you'll want to take note of. 
If a period tracker app sells your data, third parties are given access to your personal details, including your:
Health

Romantic life; and

Friendships
The safest, most secure period tracking apps are released by companies that don't sell user data. 
14 Period Tracking Apps To Suit Your Unique Lifestyle and Goals
The Best Period Tracking Apps for a Holistic View of Your Body During Your Menstrual Cycle
#1: Flo
Flo is one of the most popular period tracking apps out there. (Check out their 4.8-star rating in the App Store.)
The Flo app gives you the tools you need to track your:
Periods

Length of cycle

Symptoms

Discharge

Mood; and 

Sex drive
Flo then takes this information and, through the use of artificial intelligence technology, turns your data into cool graphs that let you know exactly what your body is doing and when. 
And if you should need it, this all-in-one app also doubles as a pregnancy tracker.
Flo offers both free and paid versions, with Flo Premium providing:
A daily well-being plan

Video courses

Expert content

Unlimited access to Flo Health Assistant; and

Stellar customer support
Flo is available on iOS or Android.
#2: Clue
The Clue app focuses on inclusivity with its gender-neutral language and color scheme. 
With Clue, you can:
Track your period

Monitor your flow intensity

Manage your birth control options

Send yourself reminders to never miss a dose

Document your symptoms

Log your health

Keep a record of exercise

Note your menstrual products; and

Track your moods
The Clue app can also predict your days of ovulation and bleeding for your next three cycles — making it easy to plan your life around your period.
This app is free, but if you'd like to get additional features you can sign up for Clue Plus. There you'll get more details and enhanced period predictions.
Clue is available on iOS or Android.
#3: Apple Cycle Tracking
In this day and age, convenience is queen. And thanks to the Cycle Tracking app for the Apple Watch, you've got everything you need to manage your periods — right on your wrist. No Apple Watch, no problem. This cool app can also be accessed via the "Health" app on your iPhone.
Apple's Cycle Tracking app allows you to log your:
Periods

Flow level

Symptoms

Mood changes; and

Basal body temp (if you're hoping to get pregnant)
Plus, you can set up notifications that can track your fertility and will let you know when your next period is on the way.
Cycle Tracking is available for iOS users.
#4: Cycles
If you want your partner to be in the know when it comes to your cycle, Cycles' ultra-customizable app may be just what you're looking for. With Cycles, you can share the details of your cycle, including your ovulation and period days, with your partner. This way, they give you emotional support when you need it most and be more involved in pregnancy planning or prevention.
Sporting uncluttered graphics and relaxing colors, the Cycles app allows you to log your … 
Symptoms

Mood

Cravings

Ovulation

Sexual activity; and 

Birth control
… so you and your partner can better predict that time of the month and live your life accordingly.
Cycles is free, but an upgrade to Cycles Premium will give you access to:
Connecting with your partner

Tailored predictions about the upcoming changes to your body

Customized reminders about birth control, fertile days, and periods
The Cycles app is available for iOS users.
The Best Apps To Track Your Period (Just Your Period — Keeping It Simple) 
#5: MagicGirl
If you're new to this whole period thing, the thought of using an app to track your period might be a little intimidating.
That's why you'll be glad to hear that the MagicGirl Period Tracker was specially designed with teens and tweens in mind. 
With MagicGirl, you'll:
Learn about hygiene product options

Connect with other girls  

Get period advice; and 

Get reminders to take your birth control pill 
MagicGirl is free and available for iOS and Android users. 
#6: My Calendar
My Calendar is an easy-to-use period tracking app that helps you be prepared for your period. My Calendar allows you to record and track your:
Periods

Menstrual flow

Symptoms

Basal body temperature

Weight

Mood changes

Sexual activity; and 

Medications
Plus, the My Calendar app's highly-customizable features make it easy to customize your:
Color scheme

Tracker start date

Reminder style; and

Units of measurement
My Calendar is free and available for iOS and Android users. 
#7: Period Tracker
Just a quick tap of a button is all you need to let the Period Tracker app know your period has made its appearance. This cool app allows for extensive tracking of your:
Symptoms, including:

Backaches

Breast tenderness

Bloating

Cramps; and 

Headaches

Menstrual flow

Weight

Basal body temperature

Fertile days

Ovulation; and

Mood fluctuations
Period Tracker evens gives you easy-to-read, comprehensive charts that illustrate your data, so you'll know at a glance what to expect each month.
Period Tracker is free and available for iOS and Android users. 
#8: Life Period Tracker Calendar
The Life Period Tracker Calendar app passes on fancy-schmancy bells and whistles. This one was built for simplicity. 
Life Period Tracker Calendar's back-to-basics interface allows you to log your:
Period days

Cycle length

Symptoms; and 

Amount of flow 
You can also see a history of your period and cycle lengths and set reminders, so you know when to expect your period.
Life Period Tracker Calendar is available for iOS users.
The Best Period Tracking Apps for Women Trying To Conceive
#9: Ovia Fertility
Are you hoping to get pregnant or wondering if menopause might be knocking on your door? If so, the Ovia Fertility app might be just what you're looking for. 
This fertility tracker app is the perfect choice when it comes to helping you chart your:
Sexual activity

Exercise

Basal body temperature

Fertility phases

Cervical position; and 

Composition of your cervical mucus
Ovia Fertility makes it easy to chart your period, too, so you can predict your flow or fertility based on your unique data.
And get this, Ovia Fertility Premium is even covered by some insurance plans. The basic plan is free. 
Ovia Fertility is available for iOS and Android users.
#10: Glow
Some consider Glow to be one of the most useful period apps on the market due to the amount of data points it lets you collect — making it a great choice for women who are ready to conceive.
With the Glow app, you can track 40 different health signals while you:
Log your sexual activity 

Monitor your basal body temperature

Connect with other women

Plan your fertility, including treatments; and

Track your health symptoms
Glow is free, but an upgrade will give you access to
A custom profile

Select content

Comparative insights

Supplement recommendations from trusted experts

Premium support; and 

Private messaging options
The Glow app is available for iOS and Android users.
#11: Natural Cycles
Natural Cycles is a super useful tool for monitoring both your period and fertility and was created to determine the most fertile point in your menstrual cycle,
An FDA-approved birth control app, Natural Cycles tracks your ovulation and comes with a thermometer to take your basal body temperature. From there, you can record your:
Sexual habits

Symptoms

Moods; and 

Monthly symptoms 
The Natural Cycles app then compiles this data and predicts your ovulation window and lets you know if/when to expect your period.
Natural Cycles is available for both iOS and Android users.
The Best Period Tracker Apps in Categories of Their Own
#12: For Irregular Cycles or Hormonal Changes: MyFlo
Do you struggle with irregular periods, think you might be heading into menopause, or wonder why you're experiencing other random monthly symptoms like excessive bloating, constipation, or migraines?
If so, you'll want to check out the MyFlo app. 
Designed to track hormonal changes, including irregular cycles, MyFlo lets you record your symptoms, then turns them into valuable information about your overall health.
The MyFlo app alerts you to potential hormonal imbalances. It then suggests lifestyle changes, like helpful foods to eat, that could bring relief during various phases of your cycle. 
MyFlo is a great choice for women with normal periods, too. It's also a great deal since a one-time charge of $1.99 unlocks all the app's features.
MyFlo is available for both iOS and Android users.
#13: For Logging Your Sex Life: Eve by Glow
Sex is fun — and an app for keeping up with your sex life should be, too, right? Eve by Glow thinks so. 
Much more than a basic period tracker. Eve also helps you keep tabs on your sexual health — through a fun, whimsical, emoji format. 
The Eve app is the perfect choice to keep track of:
Your cycle

Sexual encounters

Whether or not you used protection

Your sex drive

Moods

Period symptoms; and

Ovulation
It's easy to use and has a cool Forecast feature that predicts the likelihood of when you might experience common menstrual symptoms like cramps, constipation, and breast tenderness.
You can download Eve for free or choose from monthly, annual, or lifetime subscription options to get access to comparative insights from other users, private messaging, and additional informational content. 
Eve is available for both iOS and Android users.
#14: For Preventing Pregnancy: Spot On Period Tracker
The Spot On Period Tracker app is both a cycle tracker and a provider of sex education. 
Created by Planned Parenthood, this app lets you record … 
Period days

Flow intensity

Symptoms
… and the activities you did while you were on your period, like how much sleep you got and how often you exercised.
But Spot On is different in that it allows you to also log your method of contraception, including …
The pill

Patch

Ring

Shot

IUD; or 

Some other method 
… and track how often you use it. 
You can even set up notifications to remind you to take your birth control or learn how to switch to a new method. 
The Spot On Period Tracker app is available on iOS or Android.
ONDRwear: Feel Prepared for Your Next Period With the Protection of Period-Proof Underwear
If you're trying to keep that time of the month as low-key and hassle-free as possible, a period tracker is a must-have. So is ONDR's period-proof underwear. 
ONDRwear's period panties keep you fresh and confident all cycle long.
Designed by a mom and urologist, ONDRwear is:
Eco-friendly

Moisture-wicking

Highly-absorbent; and 

Unbelievably comfy
Check out our Perfect Pair Guarantee and experience for yourself just how life-changing ONDRwear period undies can be.
The content in this blog is not intended to be a substitute for professional medical advice, diagnosis, or treatment. Always seek the advice of your physician or other qualified health provider with any questions you may have regarding a medical condition.
BACK TO Blog