How Does Period Underwear Work? Your Guide to Period Panties and How to Choose the Perfect Pair
Jessica Lubahn 9 min read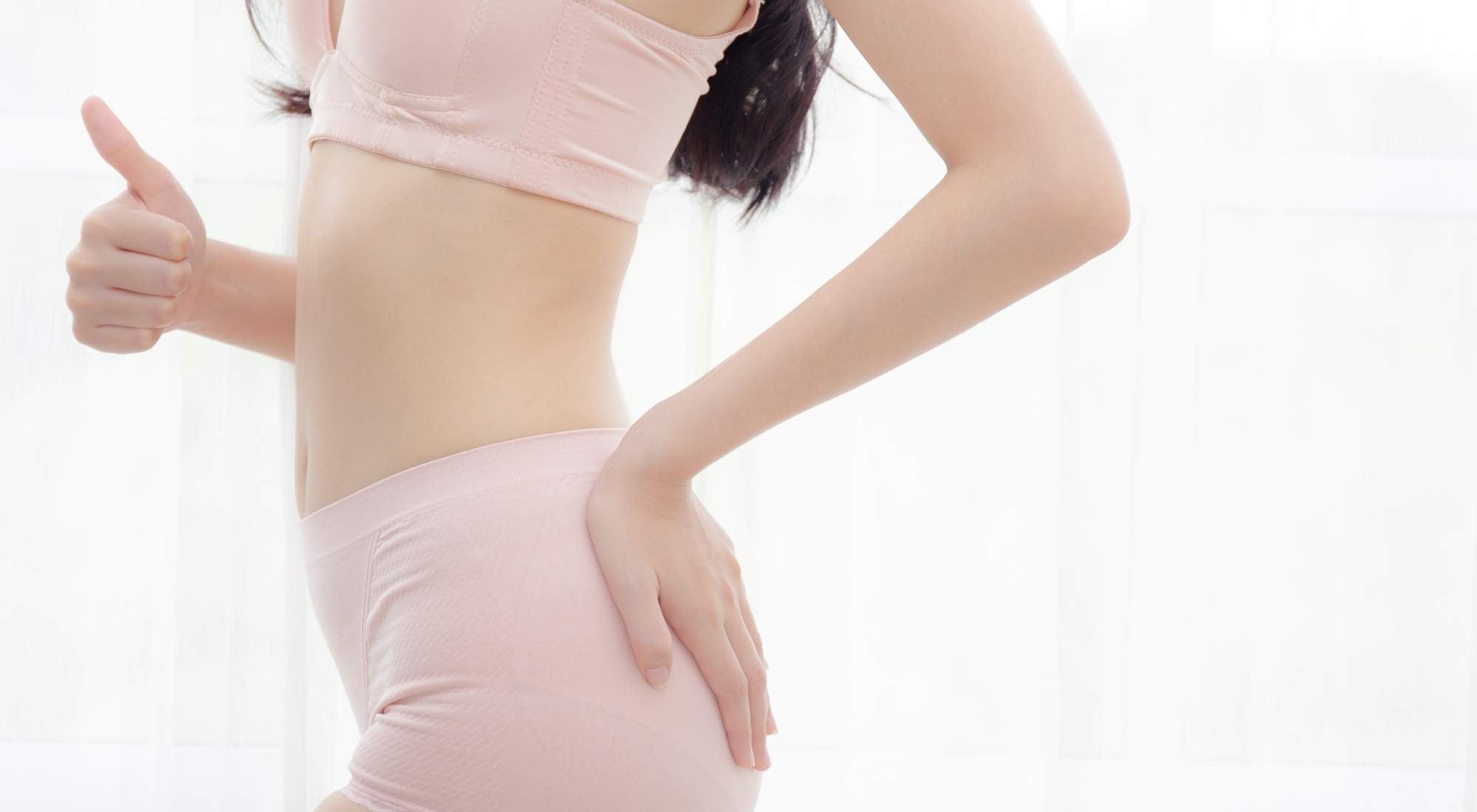 Period underwear seems to be all the buzz lately, and you're curious.
The concept seems pretty cool. But is it too good to be true?
And how does period underwear work, anyway?
Keep reading to get the low-down on the details of period panties, including how they work and how to find the perfect pair for you.
Table of Contents 
What Is Period Underwear?
Period underwear is underwear (obviously) that you wear while you're on your period. It's designed to take the place of pads, a menstrual cup, or tampons. 
Does Period Underwear Actually Work?
YES! ONDRwear period underwear was specially designed by a female urologist to replace pads and tampons. Period underwear is:
Absorbent

Moisture-wicking

Odor-free

Machine washable

Leakproof; and

Environmentally friendly
How Does Period Underwear Work?
Period underwear is a life-changing product that seamlessly protects you from the worst of period leaks.
It wears just like regular underwear but contains special absorbent layers — plus a waterproof layer that keeps blood from passing through. 
ONDRwear period panties have a unique absorbent gusset and liner designed to catch all the extra fluid and keep menstrual blood from leaking through to your clothes.
In case you're worried that period underwear feels like you're wearing a diaper, think again. 
These aren't like those bulky, stiff disposable undies. 
They are super soft against your skin — and machine washable.
Do You Wear Pads With Period Underwear?
No. Unless you have an unusually heavy flow, period underwear should replace your need for menstrual pads or tampons. If you have a normal flow, there's no need to wear a pad.
Period blood isn't like regular blood. It's much heavier and is made up of a mix of:
Blood

Cells; and 

Fluid from your vagina
If you happen to be someone who has a super heavy flow, you may feel more comfy and confident if you wear a pad for part of the day. 
The pad will absorb some of the blood, and when you remove it, your period panties can absorb the rest. That way, you won't have to deal with the heavy feeling of lots of blood all day long.
How to Find the Best Period Underwear: 10 Features You Won't Want to Miss
Just like with anything, no two brands of period underwear are alike. 
So how do you weed out the ones that don't measure up? 
Here are the top 11 things you'll want to look for when you're shopping for period underwear.
#1: Form Fitting
Nobody wants underwear that cuts into their legs or is super tight around the waist. Can you say, "Miserable?"
But you also don't want to be stuck wearing baggy granny panties, either. Especially when it comes to period underwear. If they're too loose, they'll be shifting all over the place, and you'll wind up feeling like you're wearing a giant, leaky diaper.
When you're shopping for period undies, be on the lookout for some that are made of spandex and nylon — something that's nice and fitted and designed to stretch and move with your body.
ONDRwear panties are all that and more. We use a special, stretchy, high-performance material that moves with you – but doesn't wiggle into places it shouldn't. 
You'll be comfy and leak-free all day or night. 
And our period underwear comes in all kinds of sizes and styles — for all types of bodies. 
#2: Moisture-Wicking
Another super important thing to look for in period underwear is moisture-wicking capabilities. 
If your underwear can't wick moisture away from your body, then the blood will simply soak into the fabric and sit there, feeling cold and clammy against your skin. 
Gross, right? 
ONDRwear's one-way absorption and moisture-wicking capability also prevent the blood from seeping out of the underwear area. 
And it's fast-drying — so that cold and clammy feeling will be a thing of the past.
#3: Waterproof Layer
When it comes to period underwear, the waterproof layer is a HUGE deal. 
Without it, period underwear is just plain old underwear. 
At ONDRwear, we get that it's all about the waterproof layers, so we designed our undies to hold 25% more than the leading brand. 
In case you're wondering, that's a whopping 9 teaspoons of liquid.
With our ultra waterproof layer, you won't need to think twice on those days when your flow is heavier. 
Our special barrier layer prevents period blood from traveling through the underwear, sealing it off, so it can't seep around the sides. 
You'll be confident and leak-free all day!
#4: Reinforced Waistband
Why is it important that your period underwear has a reinforced waistband?
It's simple. 
A plain old waistband will stretch out over time, meaning your panties are going to be sagging. 
At ONDRwear, we've reinforced our waistbands, so they'll keep the same shape, wash after wash.
#5: Environmentally Friendly
A recent study revealed that 1 package of menstrual pads contains the same amount of plastic as 5 plastic shopping bags. 
Yikes! 
And that plastic isn't biodegradable, so that means it is just sitting there in our landfills — or washing up on our beaches.
And then there are the chemicals. 
Period pads and tampons frequently contain:
Pesticide residues

that are linked to cancer and can throw your hormones out of whack

Dioxins

,

which are byproducts of the processes used to whiten tampons and pads

Coatings,

such as paraffin wax and

polyethylene glycol

; and

Artificial fragrances

that can cause cancer, hormone disruption, and allergies
ONDRwear uses sustainable fabrics whenever possible. 
And instead of using all sorts of harsh chemical and antibiotic treatments, we searched for fabrics with naturally odor-resistant and antimicrobial properties. 
And you'll be glad to hear that our leak proof underwear is regularly tested by an independent lab and is found to contain none of the harmful chemicals that can be found in other period products. 
#6: Machine Washable
Look for period underwear that can be tossed in the washing machine. 
Of course, since you're using them to catch blood, you'll want to do a quick rinse and stain-treat any spots that may need a little extra attention. 
Always use mild laundry detergent and lay them flat to dry, so that your period undies stay in tip-top condition wash after wash. 
#7: Anti Odor
Here's the deal. 
Periods can be stinky business, and period underwear that's designed to combat odors is non-negotiable. 
ONDRwear's modal algae lining is not only super-duper soft and breathable, but it's also anti-microbial, so it does a great job of putting the kibosh on that funky period smell. 
Most period underwear makers use a ton of chemical treatments during the manufacturing process to make their panties fight odors. 
But at ONDRwear, we try to prevent that by picking fabrics that need much less treatment — like modal and algae. 
#8: Perfectly Placed Gusset
What's a gusset, and why does it matter where it's located?
We're glad you asked.
A gusset is a small, triangle-shaped piece of fabric that's sewn into the crotch of the underwear. (Shirts, tote bags, jeans, and shoes can also have gussets.)
Not only does the gusset make the undies more comfortable, but it also happens to be where the waterproof layers are. So if the gusset isn't placed in just the right spot, your period underwear will leak. 
The size and length of the gusset are going to vary, depending on the brand of period underwear. Some manufacturers have a regular-sized gusset that's just filled with a thicker liner. 
But ONDRwear knows that the gusset plays an enormous part in keeping you clean and fresh, so our panties have an extra-long gusset. (Don't worry, it doesn't show from the outside) 
Our specially designed gusset means our underwear has a longer strip of absorbency, so it catches more fluid — kind of like those super long overnight period pads.
Plus, it goes high enough in the front — and the back — so that you don't have to think twice about springing a leak. 
And the longer gusset means that our underwear adjusts perfectly to your body shape, no matter your body size. 
#9: Perks For Purchases
Punch cards. 
Points.
Cash-back apps.
If you're like us, you love to get something back on your purchases.
That's why ONDRwear created ONDRpoints as our way to give back to you: 
Get 1 ONDRpoint for every $1 you spend. 

Every 100 ONDRpoints is $10 that can be used on your next purchase. 

And you can get 25 ONDRpoints just by just going to our website and

signing up

or leaving us a review on your purchase.
#10: Perfect Pair Guarantee
ONDRwear wants to make sure you get to experience our leak proof period underwear, because it is — well, life-changing.
We get that you can read all of our great reviews, but we also know that it's super important to be able to try them on yourself. 
The answer? Our Perfect Pair Guarantee. 
If you don't LOVE your first pair of ONDRwear, just let us know, and we will gladly send you a different size or similarly-priced style  — at no extra cost. 
Plus, you get to keep your first pair. 
Seriously, does it get any better than that? 
Try ONDRwear's Comfy Period Panties (That Actually Work!)
If you're ready to chuck old-fashioned period products that are bulky, leaky, sweaty, and stinky, take a look at ONDRwear.
Our ultra-luxe period panties are designed to:
Absorb, without feeling bulky

Wick away wetness to keep you feeling dry

Control odors using a patent-pending plant-based liner

Be leak-proof, to keep your clothes clean and stain-free; and 

Move and stretch with your body 
And, since our liners are built-in, you get a more seamless look without the bulk — even under your favorite tight leggings.
Check out our online shop. 
We know that once you go ONDR, you'll never go back.
The content in this blog is not intended to be a substitute for professional medical advice, diagnosis, or treatment. Always seek the advice of your physician or other qualified health provider with any questions you may have regarding a medical condition.
BACK TO Blog