How Do You Wash Period Underwear? Pro Tips for Keeping Your Period Undies as Good as New
Jessica Lubahn 9 min read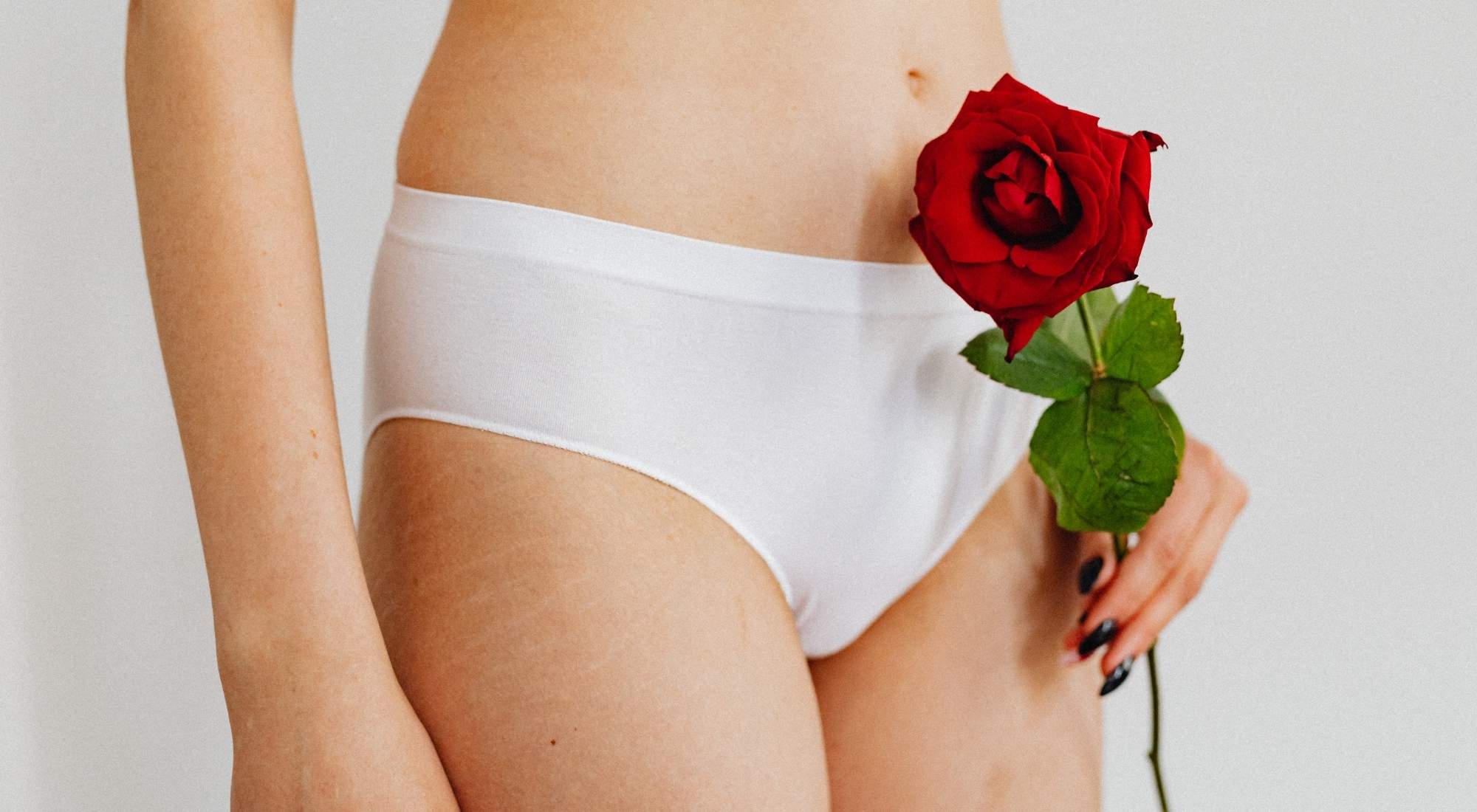 Are you thinking about ordering a few pairs of period underwear, but are afraid they might be a hassle to take care of?
Or maybe you've been using (and totally loving!) your undies for a few months but still have some questions like, 
"How do you wash period underwear?"
"How long does it take period underwear to dry?"
"How long will my period undies last?"
If you're wondering about the best way to keep your period underwear fresh and clean, we've got the answers.
Here, we'll give you step-by-step washing instructions and tell you everything you need to know about how to clean your period underwear.
Table of Contents
How Do You Wash Period Underwear? 4 Easy Steps
Here are some general best practices you can use to help keep your period panties performing as good as new.
#1: Rinse
The very first thing you'll want to do after removing your underwear is to give them a good rinsing.
And it's super important to rinse them only in cold water — the colder, the better. Using hot or even warm water can bond the blood to the fabric and cause staining that may be a pain to remove. 
Plus, cold water helps to break down any clots. And the more blood you rinse out ahead of time, the cleaner your undies will be when they come out of the washer. 
When it comes to rinsing your period underwear, there are a couple of ways you can go about it.
For starters, you can rinse them in the bathroom sink. You will want to soak them thoroughly with cool water and continue gently squeezing as you rinse until the water flows clear.
The other method, which is preferred by a lot of women, is to simply rinse your underwear in the shower. Just remember, when it comes to rinsing your period undies, cold water is your best friend. Just hold them under the stream of water and continue squeezing them until all the blood has been removed.
If possible, it's always best to wash your panties as soon as you've taken them off, rather than letting them sit for a while in a laundry basket.
#2: Treat Any Stains
But what about stains, you ask?
No problem.
One of the advantages to ONDRwear period underwear is our plant-based liner is specially treated and designed to:
Repel stains

Reduce odor; and 

Wick away moisture
This means blood should rinse out easily. 
In fact, if your undies are dark-colored, it is unlikely that you will see any stains on the fabric at all.
If you chose white or nude-colored underwear, you may see a bit of staining on the outer layer if the blood has dried. 
As you're rinsing and treating stains, it's important that you don't put too much elbow grease into your scrubbing since this can break down the stain treatment layer, making the undies feel not quite as dry against your skin. 
While rinsing is typically all you need to get fresh blood out of the fabric, if after rinsing the water is running clear, and you still happen to see a stain, here are a few stain-fighting ideas you can try:
For light or dark-colored fabrics:
Mild detergent

Baking soda

Salt 

Crushed aspirin

Meat tenderizer

; or

White vinegar
For white or light-colored fabrics ONLY, try using … 
Lemon juice

Sunlight — try laying your underwear out in the bright sun
… or one of the options listed above.
#3: Wash
Washing your period underwear couldn't be easier!
Simply toss them in the washing machine (nope, they don't need to be in a load of their own) and wash in cold water on a delicate cycle. 
Always use mild detergent — and skip the bleach and fabric softener, as they can break down the material.
Putting them inside a garment bag before washing is a great idea to keep other items from hooking onto your underwear as it is washing. Plus, it will make them easy to pick out of the freshly laundered load. 
#4: Dry
When it comes to drying your period underwear, air drying is always recommended. 
Period underwear is specially sealed to keep your clothes fresh and blood-free. Using excessive heat, as you would find inside the dryer (or even hot water) means you run the risk of breaking down the tape used at the seams and gusset. 
If you want to increase the longevity of your period undies, air drying is a step in the right direction.
Simply put them on the clothesline in the summer or near a heating vent during the winter months.
Period Underwear FAQ
Can You Put Period Pants in the Washing Machine?
Absolutely! Period underwear can be washed in the washing machine on a gentle cycle using cold water.
Is it Okay to Handwash My Period Undies?
Of course! 
If you don't have a washing machine — or just prefer to keep your delicate items out of the washer — handwashing is the perfect option. 
As a matter of fact, handwashing your period underwear not only preserves the elasticity of the fabric, it also increases its overall longevity.
Plus, you won't run the risk of pulling them out of the washer and accidentally throwing them in the dryer.
Here's how to handwash your period undies:
Rinse your underwear in the coldest water available, adding in just a drop or two of mild laundry detergent or hand soap. 

Use the rinse and squeeze method to remove blood, continuing the process until the water runs clear.

If needed, you can gently rub the fabric against itself  (or use a very soft brush) to scrub away any stubborn stains that might remain.

When you're finished, let them dry naturally.
It's always a good idea to wash your undies as soon after wearing them as possible, especially if you will be washing them out by hand, since it will make cleaning them a lot easier.
How Long Does it Take Period Underwear to Dry?
There are a few factors that contribute to how long it can take period underwear to dry.
For starters, there's humidity. If you live in a humid or tropical environment, it will take a longer amount of time for your underwear to dry due to the added moisture that's naturally in the air.
On the other hand, you live in an arid climate or if you're running the heater in the wintertime, your underwear will dry more rapidly.
Typically, it will take anywhere from a few hours to two days for your underwear to dry — depending on where you live and how you dry them. 
If you want to speed the drying process along, you can roll your underwear in a towel, burrito-style. All you need to do is:
Place a folded towel on the ground

Lay your period panties on top 

Roll the towel up tightly, with the panties inside

Press down firmly to remove any excess moisture; and 

Then unroll and hang your panties to dry
And BTW, hanging your period underwear will help them to dry faster than they would if you just lay them flat. 
Always be sure that your period panties are fully dry before you put them away.
Does Regular Washing Sanitize Period Underwear?
For ONDRwear the answer is YES! 
Our ultra-thin panty lining is made from seaweed and modal, making it:
Naturally odor-resistant

Antimicrobial; and 

SUPER soft
And since they're designed to hold almost 1/4 of a cup (or 9 teaspoons) of liquid, our period underwear keep you feeling dry and comfy even on the longest day or night.
 I Accidentally Ran My Period Underwear Through the Dryer – Are They Ruined?
Take a deep breath — it's all good. 
While you want to do your best to keep your period panties out of the dryer, you can rest assured that if it accidentally happens, all hope is not lost. 
People who use ONDR have let us know they've accidentally tossed their period panties in the dryer and for them, the product is still perfectly functional.
So while repeated exposure to dryer-level extreme heat can affect the performance of your underwear, a trip or two through the dryer isn't the end of the world — or the end of your leak-proof undies.
What Kind of Soap Should I Use to Wash My Period Underwear?
It is recommended that you wash your period underwear only in mild detergent. 
And you'll want to be sure to skip the ...
Fabric softener,

Color-safe bleach; and

Liquid bleach
… since they can break down the plant-based fibers and reduce the leakproof capabilities.
Oh, and we also suggest washing in an unscented detergent since fragrance can cling to the fabric and irritate your private area.
How Long Can I Expect My Period Underwear to Last?
If you've already made the choice to purchase period panties, congratulations on your wise investment. 
You'll be glad to know that if properly cared for, your ONDRwear undies, can last at least 200 to 250 washes without losing quality or absorbency.
ONDRwear Leak-Proof Period Underwear Keeps You Feeling Fresh Throughout Your Period
ONDRwear products were designed by a urologist and mother who knows just how important it is to have high-quality, sleek, absorbent underwear that helps you feel confident and stylish. 
ONDRwear products are:
Lightweight

Plant-based 

Ultra-absorbent; and

Naturally odor-resistant
And our leak-proof period underwear comes in all shapes and styles, including:
Boy short

Thong

Bikini; and

High-waisted brief
Are you ready to feel comfy and confident all day long? 
Click here to try ONDRwear.
The content in this blog is not intended to be a substitute for professional medical advice, diagnosis, or treatment. Always seek the advice of your physician or other qualified health provider with any questions you may have regarding a medical condition.
BACK TO Blog