Postpartum Underwear FAQs: Everything You've Ever Wanted to Know About Postpartum Undies
Jessica Lubahn 5 min read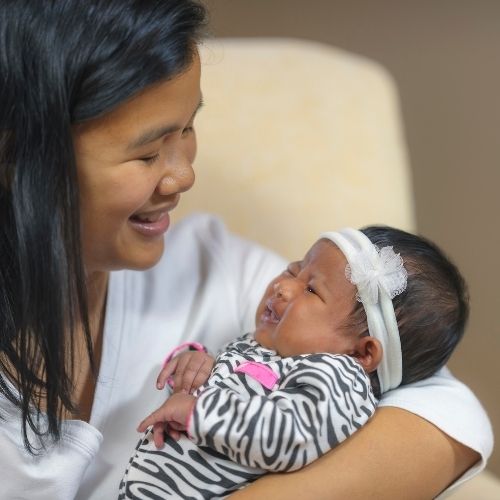 If you've got a bun in the oven, you've got a lot on your plate. 
There's so much to prepare for as you await your new arrival … choosing a name, finalizing your birth plan, and deciding on your postpartum underwear. 
Okay, so postpartum underwear might not be quite as high priority as names and your birth plan, but it really is a big decision.
If you're getting ready to welcome a new little one and trying to decide on the best postpartum underwear, (or if you even need postpartum underwear in the first place), we've got you covered.
Keep reading to learn everything you need to know about postpartum underwear, including where you can buy undies you can use before, during, and after postpartum.
Table of Contents 
What Is Postpartum Underwear?
Postpartum underwear is underwear you wear postpartum. 
Okay, so while that sounds totally obvious, there's actually a lot more to it. 
Postpartum underwear is specially designed to absorb lochia, a.k.a. the vaginal discharge you have after you give birth. It's similar to your period blood, except it contains the tissue, mucous, and blood shed by your womb as it replaces its lining.
Is Postpartum Underwear Necessary?
Yes ma'am.
Growing a baby human is a big deal, and postpartum recovery is no small event. Postpartum underwear can help speed the recovery process by catching the discharge. 
And the right type of postpartum underwear is specially designed to wick all that moisture away from your already sensitive area (i.e. stitches), allowing you to skip the perpetually clammy feeling you get with most postpartum panties. 
Postpartum bleeding continues four to six weeks after birth — although it's generally only heavy for the first few days. After that, the flow of blood gradually slows, until it becomes a pinkish-brown discharge. After about two weeks, the flow turns into a creamy, yellow. 
The use of tampons is not recommended after birth, so postpartum underwear helps you feel clean and fresh.
Are There Different Types of Postpartum Underwear?
Of course!
Many women prefer to spend the first day or so wearing the disposable mesh panties supplied by the hospital. They're fairly comfortable and do a great job of holding a super-absorbent pad securely in place. 
But once you're home, you'll probably want to move on to something a bit comfier in the panty department. This is where the choices abound. 
When it comes to postpartum underwear, your options include:
Disposable briefs: This one-time-use, throw-away underwear is high-waisted.

Light compression underwear: These are washable and gently fitted.

Period underwear: Designed to absorb menstrual blood. You may find it necessary to pair them with a pad during the initial postpartum days.

Maternity panties: Some women opt to continue with their pre-birth maternity underwear.
And you also have options when it comes to styling.
If you're a c-section mama, you'll probably want to steer clear of bikinis or thongs until your incision heals. High-waisted briefs are where you'll want to be.
On the other hand, if you delivered vaginally, you'll probably want to opt for larger panties that can easily hold postpartum pads and those nifty little ice packs that soothe your swollen "down-there" tissues. 
Is Postpartum Underwear Available in a Variety of Fabrics?
When it comes to postpartum underwear, there's a fabric to please every woman.  You'll find postpartum underwear in:
Mesh: Mesh postpartum undies are what you'll usually be given at the hospital. They're not very sturdy, but you won't need them for the long term.

Microfiber: This is stronger than mesh and highly absorbent.

Cotton: An all-natural, all-time favorite, cotton is comfortable, absorbent, and breathable.

Spandex: If you need gentle compression, this is the fabric for you.

Silicon panel: Some postpartum underwear is designed with a silicone panel (or even a pocket to hold an ice pack) to help with c-section scarring.
What Is the Best Underwear for Postpartum?
Every baby-birthing goddess deserves postpartum underwear as amazing as she is. In your quest for the best postpartum underwear, look for panties that are:
Ultra-absorbent to soak up the lochia

Moisture-wicking, to keep you dry

Form-fitting so it will stay put (and securely hold a pad or ice pack, if needed)

Stretchy to accommodate your postpartum belly (yes, you'll still have a belly)

Super comfy; and

Gently supportive to uphold your newly-displaced abs
ONDRwear underwear is all this and more.
Not only is it super comfortable and perfect for postpartum wear, but ONDRwear is also:
Eco-friendly

Sustainable

Naturally odor-free; and 

Machine washable
Plus, it comes in all your favorite styles, including
Boy short

Bikini 

Thong; and 

High-waisted brief
ONDRwear isn't bulky like some other postpartum underwear, so they transition perfectly into period panties. And they also double as incontinence undies to catch those awkward little after-baby dribbles. 
If you want the very best underwear for postpartum, ONDRwear has got you covered — literally.
Can You Use Incontinence Underwear for Postpartum?
You can. In fact, we highly recommend it!
We designed our highly absorbent ONDRwear incontinence undies to go from period to pregnancy to postpartum and back again. 
And our machine washable, leakproof panties come in sizes 3XS to 4XL to perfectly accommodate pre- and postpartum bodies of all sizes.
ONDRwear: Undies for Postpartum and Beyond
If you're looking for high-performance postpartum underwear that keeps you feeling clean and dry, look no further than ONDRwear. 
Designed by a board-certified urologist and mother, ONDRwear are not only the most comfortable postpartum undies your bottom will ever have the privilege of wearing, but they're also odor-neutralizing and hypoallergenic to keep you feeling fresh as a daisy.
Try ONDRwear today and see just how comfy postpartum underwear can be.
BACK TO Blog