Thinx vs. Knix vs. ONDRwear: Which Is Right for You?
Jessica Lubahn 6 min read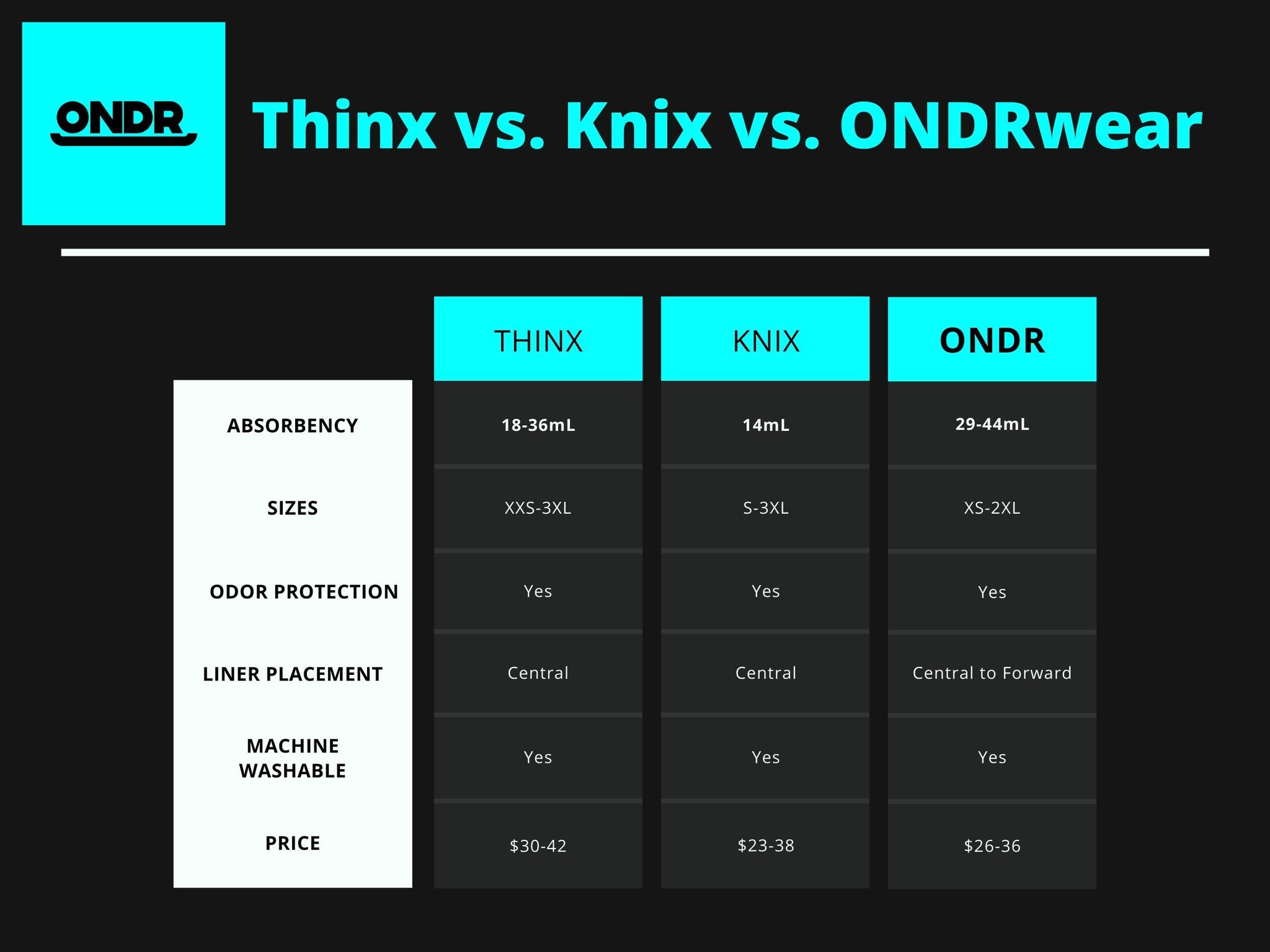 Looking for a new way to manage your period? Or perhaps you're one of the many who live with bladder leaks. Now is the best time to get comfortable (and confident!) about it. 
With so many leak-proof underwear brands on the market, how can you be sure to find the best fit for your needs and lifestyle?  
When comparing Thinx vs. Knix vs. ONDR, which is right for you?
We asked around to get you the inside scoop. 
In this guide, we're comparing the most popular brands so that you can be sure to find the best fit for your needs without compromising comfort and style.
Table of Contents
The Details on Thinx vs. Knix vs. ONDR
Each period-proof underwear brand has its own strengths. 
Depending on your priorities and budget, you can find the perfect pair that makes you feel sexy and confident, and no one will know about your period or incontinence.
Here's a breakdown on Knix vs. Thinx vs. ONDR to help you decide which brand is best for your needs:
Thinx

Knix

ONDR

Absorbency

18-36 mL

14 mL

29-44 mL

Sizes

XXS-3XL

S-3XL

XS-2XL

Colors

Assorted

Assorted

Black

Styles

10 Styles

11 Styles

4 Styles

Odor Protection

Yes

Yes

Yes

Liner Material

Cotton

Elastane

Cotton

Spandex

Carbon

Cotton

Beechwood

Algae

Machine Washable

Yes

Yes

Yes

Liner Placement

Central

Central

Forward to Catch

Bladder Leaks

Price

$30-$42

$23-38

$26-36
Comparing Thinx vs. Knix vs. ONDR for Period Leak Protection
Thinx
Designed with "Period Protection" in mind, Thinx states that their underwear can hold the equivalent of 2-4 tampons worth of blood depending on the style you choose — but they aren't completely liquid proof. 
While Thinx is made from breathable cotton treated with an antimicrobial coating, Thinx is designed to absorb and dry quickly so you can maximize comfort and neutralize odor. 
Every day you wear a pair, throw them in the wash with the rest of your clothes in similar colors. Then hang them out to dry.
But buyer beware: Wearers have claimed that these period panties are not ideal for overnight wear, as the material may cause increased sweating and odor.
Knix
When it comes to Knix vs. Thinx leak-proof panties, Knix's has a more extensive line that spans beyond just period panties — they also have sports bras, intimate products, and swimwear.  
The Knix leak-proof line claims they can hold several teaspoons of liquid and can be used for your period and sweating, but unfortunately, cannot hold as much liquid as other brands. 
With triple-layer carbon cotton technology, Knix was designed to be safe. Made 100% free from PFAS and is OEKO-TEX® certified. 
PFAS are chemicals found in many clothing and household products and could potentially cause: 
Reproductive

Developmental

Liver 

Kidney, and 

Immunological effects 
Although the brand is known for having a wide variety of products, the quality of the underwear is made specifically for period-proofing. If you are experiencing incontinence issues, Knix would not be a good fit for you.
ONDR
So, where does ONDR fall under the Thinx vs. Knix vs. ONDR review? 
ONDR was designed by a board-certified urologist with extensive experience managing incontinence in her patients. 
ONDR is the most absorbent leak-proof underwear line you can find, so you can live your life freely and without fear.  
When comparing ONDR vs. Knix vs. Thinx, consider the following things about ONDR product quality: 
ONDRwear: 
Is made from the sustainable fibers of algae and beechwood fibers

Contains an ultra-thin lining that is naturally odor-resistant,

antimicrobial

, and super soft. 

Can hold almost 1/4 a cup of liquid, while still leaving you feeling dry and comfortable all day long. 

Is tested regularly by independent laboratories to ensure they are 100% free from

PFAS

.

Can be thrown in the washing machine and worn time and time again.
Comparing Thinx vs. Knix vs. ONDR for Incontinence
Most leak-proof panties on the market were created for solving one solution — period protection. But how do Thinx vs. Knix vs. ONDR compare when it comes to incontinence?
Let's take a look at the volume of liquid each of these products can hold:
Thinx: Thinx's Super Panty claims to hold up to 45mL of fluid

Knix: Knix's Super Leakproof Underwear claims to hold up to 40mL of fluid.

ONDR: ONDR panties can hold up to 1/4cup of fluid, or 59mL
So, which panty is best for incontinence leaks? 
If you're comparing just Thinx vs. Knix. when it comes to incontinence protection, Thinx would be the better choice. 
But the best incontinence leak protection product? That would be ONDR.
ONDR products were created specifically for solving the problem of embarrassing incontinence leaks, while other leak-proof underwear were designed for period protection. It just so happens that underwear created to help with incontinent leak protection are also an incredible solution to period leaks!
In addition, ONDR is currently the

ONLY

inclusive option for incontinence issues on the market. Aside from offering confidence to women through leak-proof panties, ONDR also has

leak-proof boxer briefs for men

who also struggle with incontinence.
Sustainability and Saving the Planet With Thinx vs. Knix vs. ONDR: Which Should You Choose?
With single-use leak-proof protection options (panty liners, tampons, pads, diapers, etc), the amount of waste is staggering. 
Women typically use products like this for more than 40 years, which ends up being a lot of waste. With leak-proof undies, you can wash and reuse them over and over again without losing absorbency, and the planet says thank you! 
All three brands discussed in this article are washable and reusable, so you can feel good about doing your bit to minimize your footprint. 
But ONDR goes one step further to connect with mother earth with revolutionary plant-based liner technology. Move freely and with confidence with the odor-protecting, leak-proof liner that is sourced from algae and other plant materials.
Thinx vs. Knix vs. ONDR — Final Thoughts
Based on its …
Period leak protection

Incontinence leak protection

Inclusivity; and

Sustainability
… we feel confident in saying ONDR is the best leak-proof underwear on the market.
Try ONDR today to experience a new level of freedom from your period and incontinence issues.
The content in this blog is not intended to be a substitute for professional medical advice, diagnosis, or treatment. Always seek the advice of your physician or other qualified health provider with any questions you may have regarding a medical condition.
BACK TO Blog