Incontinence Products for Men: 8 Options Explored
Jessica Lubahn 9 min read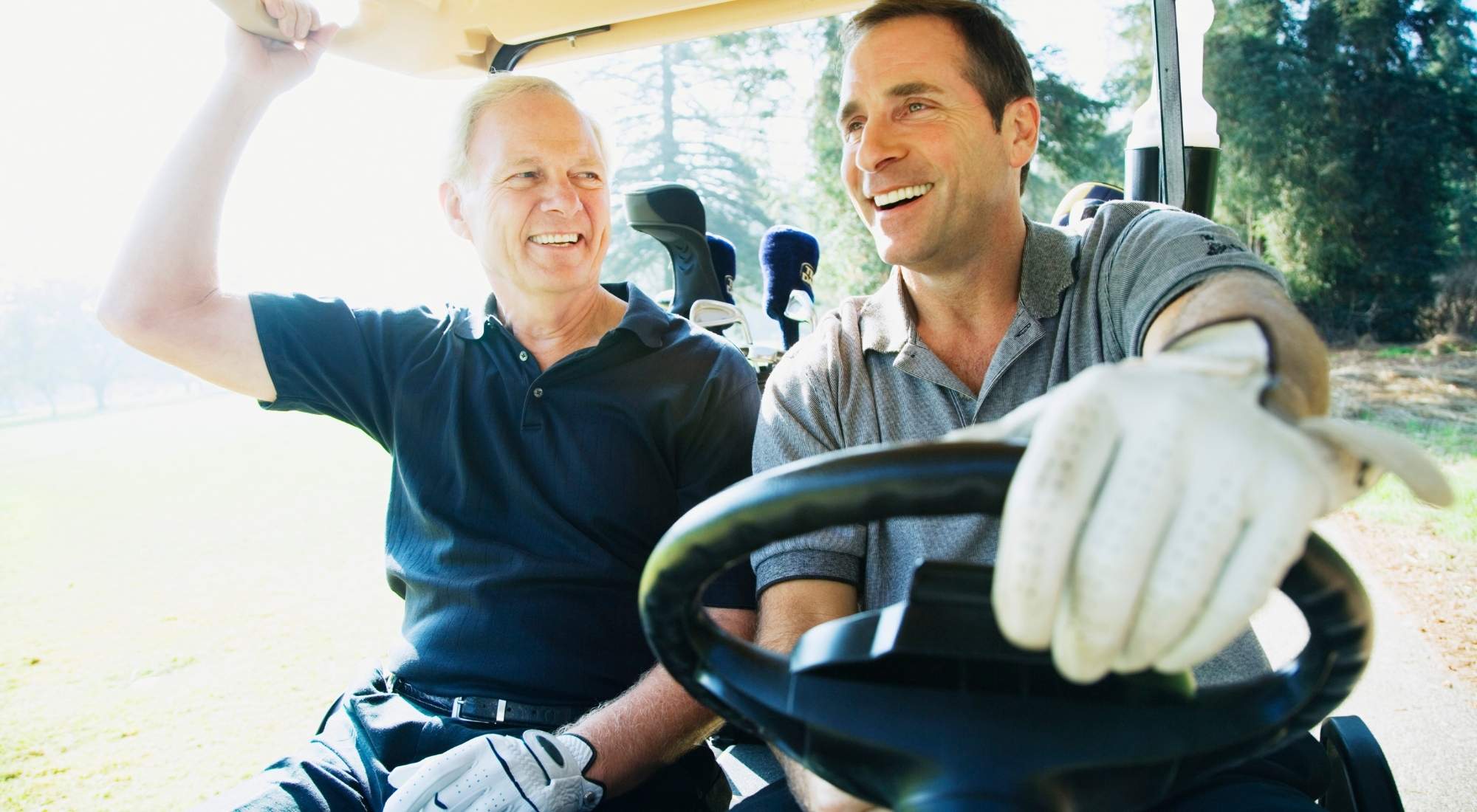 You want to crawl under a rock.
You were hanging out with the guys, having a great time, when out of the blue it happened.
You dribbled pee — in your pants — again.
Not only is this getting old, but it's humiliating, and you're terrified someone will find out.
The fact is, male incontinence is a common issue and there are things you can do to stay dry.
We'll take a look at incontinence products for men and how they can help you take back your life — and regain your confidence. 
Table of Contents
Why Are Male Urinary Incontinence Products Needed?
The answer is simple. 
Male urinary incontinence products are needed because just like women, some men struggle with incontinence.
The reasons for male incontinence are varied, and can include …
An enlarged prostate 

Cancer

Multiple sclerosis

Bladder spasms

Diabetes

Stroke

Alzheimer's disease

Parkinson's disease

Bowel surgery

Low back surgery

Nerve damage

Obesity

Weak pelvic floor muscles

Chronic coughing

Urinary tract infection

Alcohol

Medications, such as 

Diuretics

Antidepressants

Sedatives

Narcotics

Constipation; and

Aging
If you're a man who is suffering from urinary incontinence, ONDRwear's leak-proof briefs may be just the answer you're looking for.
ONDRwear founder and urologist, Dr. Jessica Lubahn, MD, witnessed the shame and embarrassment that often goes along with urinary leakage and decided to create an option that was not only super comfortable — but also restored the dignity of men and women suffering from incontinence. Click below to learn more … 
What Can You Use for Male Incontinence? 
There are many options for incontinence products for men, such as …
Reusable underwear 

Disposable pads and briefs

Adult diapers

Guards

Sheath

External catheter

Clamping devices
These products come in different sizes and levels of absorbency to ensure you can find the product most comfortable for you — whatever your lifestyle and level of activity. Here's the lowdown on your options.
3 Aids & Devices for Male Incontinence 
Penile Sheaths
Envision a condom that catches your pee.
A penile sheath fits over your penis just like a silicone condom — except it has a drainage tube that draws urine away from your body and into a bag.
A.k.a. …
Condom catheters

Uridomes; or 

External catheters
… penile sheaths come in all lengths and diameters and can be worn day or night. 
Some types of sheaths are self-adhesive, while others require a separate adhesive or adhesive strip. If you wear a sheath for only a short time, you may need to use a special spray or medical wipe to help you comfortably remove it. 
Penile sheaths may cause issues, such as …
Contact dermatitis

Compression or tourniquet effect due to being too tight

Urine stagnation 

Skin irritation if the sheath is not secure; or

Pressure ulcers
And as you can imagine, sexual activity may be limited.
Sheaths are an option for moderate to severe male urinary incontinence.
Body-Worn Urinals 
Next on the list of incontinence products for men is the body-worn urinal. 
Similar to a penile sheath, body-worn urinals are applied over your penis and include a drainage tube and bag. Urinals use a large bag that uses straps to attach around your waist or leg.
Body urinals may be a good choice for …
Days when you're out and about running errands

Long car trips; or 

Anytime you aren't able to access the toilet at a moment's notice
Penile Clamp
A penile clamp, or external compression device, is a small product that squeezes your penis to stop pee from leaking out. 
The clamp resembles a small, padded, hinged clip that snaps together at one end to keep it securely attached to your penis. A small amount of pressure exerted by the clamp temporarily compresses your urethra, preventing any potential leaks. The inside of the clamp is covered with a soft foam piece to provide as much comfort as possible.
Issues with penile clamps may include …
Circulation problems

Irritation; and 

Strictures
Due to the nature of the product, penile clamps are only intended to be worn for a couple of hours at a time, such as during exercise or swimming. However, clamps aren't always well camouflaged underneath clothing, so you'll want to choose your attire carefully.
Penile clamps need to be quite tight to work properly and may quickly become uncomfortable. For this reason, some men choose to wear them on a looser setting, along with a disposable pad.
3 Disposable Options for Men's Leakage Protection
Disposable incontinence items are worn once, then thrown away, and include … 
Pads

Diapers; and

Underwear
While disposable incontinence products for men are convenient and easy to use, they also come with plenty of downsides, such as … 
Not being environmentally friendly 

Being expensive

Containing hazardous chemicals

Being famous for making you sweat

Causing chafing

; and
… making many men feel ashamed of their struggle with incontinence.
Disposable Pads
Disposable pads are probably the easiest-to-use and most convenient type of disposable male urinary incontinence products.
The pads stick into your underwear and come in various sizes and levels of absorbency — from light to heavy leakage.
Disposable incontinence pads contain a special gel that's designed to absorb liquid and may be worn for short periods throughout the day if you have a mild form of urinary incontinence. 
They're not typically as padded as other disposable products and can shift as you go throughout your day, causing embarrassing leakage.
Disposable Diapers 
Disposable diapers are the most heavy-duty form of disposable men's bladder leakage products. They may be found in absorbency levels that are suitable for daily wear or overnight use.
As with other types of diapers, they are highly absorbent and may have features such as …
A moisture-proof lining

Refastenable hook tabs

Curved leg openings

A wetness indicator; and 

Leakage protection
If disposable diapers are worn for a prolonged period, contact dermatitis, or diaper rash may occur. The plastic backing can also make noise as you move, and may become uncomfortable if you have sensitive skin.
Disposable Underwear
Pull-on disposable underwear incontinence products for men are designed to look as much like real underwear as possible, except they have an absorbent pad in the crotch to catch leaks.
This product is most commonly used for moderate to heavy bladder leakage.
It's important to purchase the correct size of disposable underwear, since wearing a size that's too small may cause … 
The material on the sides to split 

Embarrassing leaks; and

Uncomfortable chafing
2 Reusable Incontinence Products for Men 
An alternative to disposable incontinence products for men is reusable, washable pads and underwear. 
Reusable male urine leakage products are …
Machine washable.

You may be able to make it through an entire year with six to eight washable products, rather than having to buy a package or two of disposables

each month.

Cost-effective

. Compare the cost of reusable male incontinence protection with disposable — and washable products are a huge win, hands down.

The best choice for the environment.

The large numbers of used disposable incontinence products place a significant burden on Mother Earth. By switching to reusable incontinence protection, you are keeping pollutants out of our environment and plastic out of our landfills.
If you're looking into reusable men's urinary incontinence products, here's what you need to know.
Washable Pads
Most reusable pads have wings that flip over to snap into place across the crotch of your regular underwear.
They may be made of materials ranging from polyester to cotton flannel and come in a variety of sizes and levels of absorbency.
Washable men's urinary incontinence pads may be suitable for all-day or overnight wear.
Washable Underwear
Washable male incontinence underwear look just like your everyday undies — but they have an absorbent layer in the crotch.
Like washable pads, they can be tossed in the washing machine and used over and over again.
But, here's the deal. All washable underwear is NOT created equal. 
The Best Men's Incontinence Briefs 
If you're looking for the best protection for male incontinence, look no further than ONDR's men's boxer briefs.
Our leakproof boxers come in sizes XS through 3XL and are …
Doctor designed

Machine washable

The perfect answer to mild or moderate leakage

Plant-based

Uber absorbent

Super-sleek; and

Form-fitting
Plus, they can hold up to 9 teaspoons of pee. (That's A LOT.)
Recap: What Is the Best Product for Male Incontinence for You?
Choosing incontinence protection is a personal decision and there are many factors to consider.
But it ultimately boils down to this:
Would you rather clothe the family jewels in … 
Expensive

Uncomfortable

Shame-inducing
… disposable products? 
Or will you choose ONDRwear — the reusable male incontinence underwear that combines effectiveness with comfort to give you back your confidence and dignity?
ONDR: Male Incontinence Underwear That Combines Effectiveness With Comfort 
The embarrassment of incontinence isn't something anyone should have to struggle with.
And with ONDRwear men's incontinence underwear – you won't have to. 
Dr. Jessica Lubahn created ONDRwear to help you reclaim your life and put an end to the shame of incontinence.
Not only is it super comfortable, but ONDRwear is also:
Eco-friendly

Machine washable 

Naturally odor-free; and 

Sustainable
Plus, it comes in all your favorite styles for both men and women, including
Boxer brief

Boy short

Bikini 

Thong; and 

High-waisted brief
ONDRwear isn't bulky like disposable incontinence products, so you can discreetly wear them under just about any clothing — just like your regular underwear — without feeling like you're wearing an adult diaper.
If you want to feel more confident while dealing with male incontinence, check out ONDR today!
The content in this blog is not intended to be a substitute for professional medical advice, diagnosis, or treatment. Always seek the advice of your physician or other qualified health provider with any questions you may have regarding a medical condition.
BACK TO Blog