How to Stop Overactive Bladder — Naturally
Jessica Lubahn 8 min read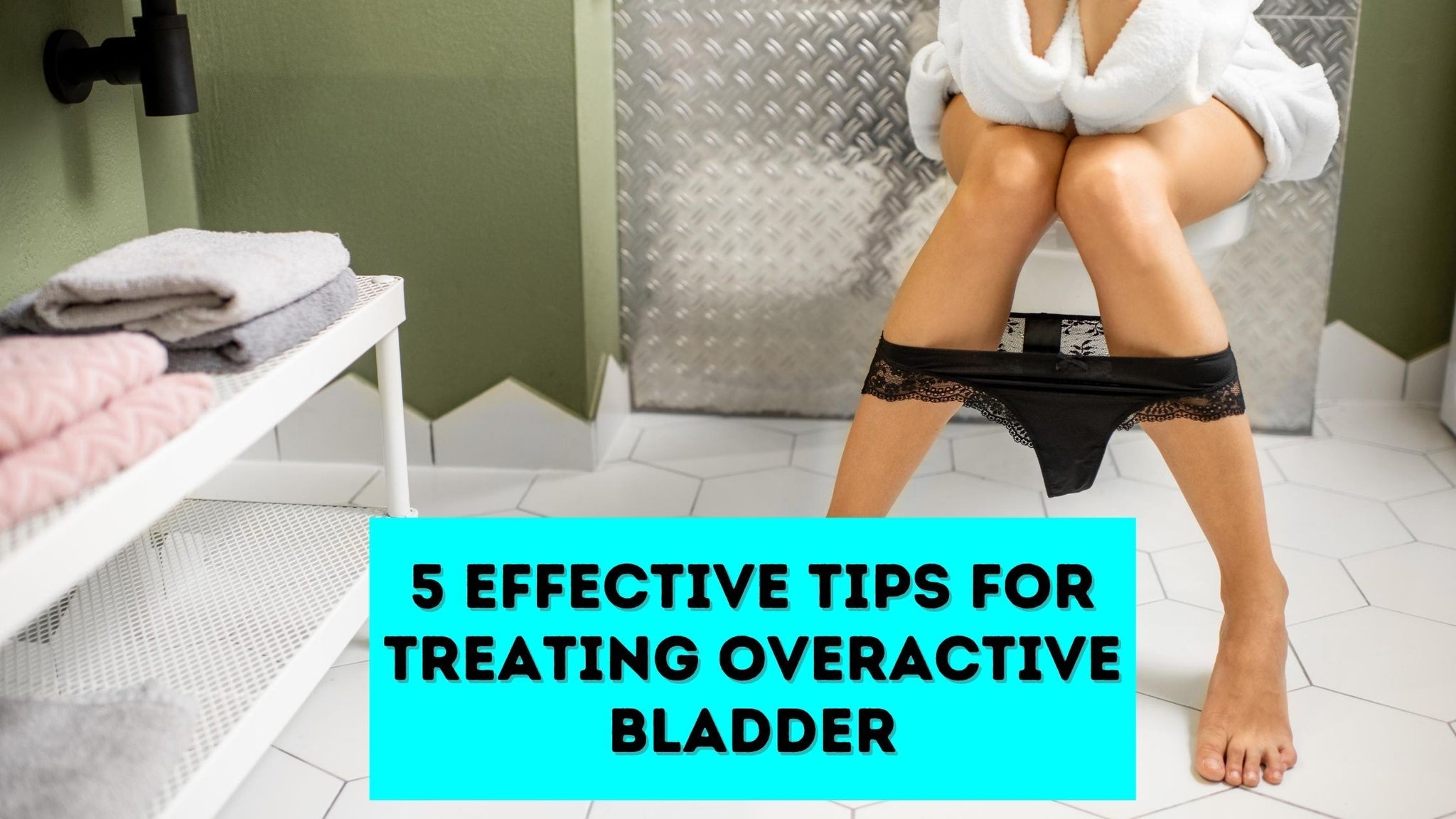 You sneeze, you pee. You jump, you pee. You sleep, you pee… will the madness never end?
Overactive bladder (OAB) is a lot more common than most people think, and it's certainly nothing to be ashamed of. But, that doesn't mean you want to live with it.
In many cases, OAB can be managed naturally, without the need for meds or surgery.
Follow our tips for an overactive bladder and learn what you can do to reclaim your life — and dignity — in the meantime.
Table of Contents 
What Exactly Is Overactive Bladder?
Overactive bladder, also referred to as OAB, causes a sudden and frequent urge to urinate that can be hard to control. You may experience involuntary loss of urine (urgency incontinence) or you may feel like you need to pee many times throughout the day and night.
Symptoms include:
A sudden urge to pee that's difficult to control

Frequent urination (eight or more times in 24 hours)

Waking up more than twice in the night to relieve yourself

Urinate unintentionally or immediately after an urgent need to pee
For many people, getting to the toilet on time may not be an issue, but the frequency and urgency of urination can seriously disrupt your life.
10 Tips for Overactive Bladder
When we said OAB was more common than you might think, we meant it. An estimated 33 million Americans live with overactive bladder. While this may seem shocking, OAB can cause embarrassment and anxiety, making it difficult for some people to address.
Whether it was caused by pregnancy or another health condition, OAB affects both men and women alike. That's why we are glad you're here and taking the first step to managing your OAB. 
We've compiled 10 tips for overactive bladder management to help you get started on the path to recovering bladder control — and your dignity.
#1: Stay Hydrated — The Right Way
You need to stay hydrated, of course! You wouldn't want to risk urinary tract infections or dehydration and having concentrated urine just to prevent bathroom visits.
But, you have to make sure you're staying hydrated with the RIGHT drinks. 
Here are some of our favorite bladder-friendly drinks to stock up on:
Plain water or barley water

Cranberry juice

Less acidic fruit juices

Caffeine-free teas

Soy milk, which is less irritating than cow or goat milk
You may want to consider consuming pumpkin seeds or Kohki tea, which have antioxidants known to protect your bladder and improve abnormal urinary function. It may also help reduce the symptoms of an overactive bladder.
#2: Get On the Healthy Diet Bandwagon 
What you eat can also affect your bladder health, so I recommend that you bulk up on bladder-friendly foods, such as …
Cranberries

Bananas

Cruciferous vegetables

Lean proteins

Garlic

Walnuts

Yogurt
… and avoid foods that can irritate the bladder, like:
Tomato-based food

Acidic fruits

Artificial sweeteners

Spicy foods

Chocolate 
Using an elimination diet to determine which foods irritate your bladder can be helpful as well. Try eliminating all irritating foods from your diet and reintroducing them one at a time to see if your symptoms worsen. 
#3: Lose the Extra Weight
When you're overweight or obese, excess weight can put a lot of extra pressure on your bladder, causing stress incontinence, and frequent urination.
Through diet and exercise, you can shed those extra pounds and alleviate the stress on your bladder. 
Check with your doctor to see how much weight you need to lose, and consider speaking to a nutritionist to help get you on track with the right foods and exercise routine.
Your doctor will also be able to rule out any other medical conditions that may be causing your overactive bladder.
#4: Retrain Your Bladder
You can try to retrain your bladder muscles — sort of like a reboot — with bladder retraining.
Bladder retraining requires you to allow the urge to urinate pass before you head to the bathroom.
Slowly, you'll allow more time to pass between urination until you can hold it off for five minutes.
You can also schedule your bathroom trips, starting with 5-10 minute delays, and work toward 3-4 hours.
This procedure is best matched with Kegel exercises (below). Keep a journal to track your bathroom visits and intervals in between.
#5: Do Pelvic Floor Exercises
Kegel exercises, or pelvic floor exercises, are a great addition to your usual workouts. They will strengthen your pelvic floor muscles, which minimize any involuntary contractions while improving posture. 
Performing such exercises is also a sage behavioral therapy that has NO side effects or complications.
When doing Kegel exercises, stop the urine mid-stream as you go. Also, focus on tightening your muscles on an empty bladder, by holding the Kegel exercise "pose" every five seconds. Repeat the exercises ten times each and increase repetitions as your muscles get stronger.
The key to success with Kegel exercises is to breathe through them and avoid tightening any other muscles, like your abdomen, butt, or thighs. Only contract the pelvic floor muscles. A physical therapist can help you isolate these muscles with the use of biofeedback.
#6: Quit Smoking
Many urologic conditions can be impacted by smoking, and OAB is one of them. When you smoke, you're reducing your overall vascular health and ultimately depriving your bladder muscles of oxygen.
Not to mention, smoking can cause chronic coughing which can lead to additional stress on your bladder and contribute to urinary leakage.
Quitting can reduce symptoms associated with overactive bladder, especially for patients between the ages of 20 and 48. 
#7: Limit Caffeine 
We wouldn't dare ask you to give up your morning cup of Joe. However, excess caffeine can lead to an increased frequency of overactive bladder symptoms because it irritates the bladder and can result in muscle spasms.
Limiting your caffeine intake to one cup of coffee per day may be beneficial if you're experiencing OAB. If possible, try switching to decaf, and eventually eliminating your body's dependence on caffeine.
#8: Address Constipation Issues
Bowels affect how your urinary system works, making constipation an antagonist where OAB flare-ups are concerned. Excess waste in the intestines can add a lot of pressure to your bladder and inhibit the bladder's ability to fill up or empty out completely.
Increase your daily intake of fiber to encourage regular bowel movements and if this doesn't help, speak to your doctor about alternative treatment options to help get your bowels moving again.
#9: Reduce Alcohol Intake
Alcohol is a diuretic and it can cause substantial bladder irritation, both of which contribute to OAB flare-ups. It's also dehydrating and can lead to excess liquid consumption the day after a night out drinking.
Consider limiting the number of times per week you drink alcohol as well as how many alcohol drinks you consume. Try saving it for special occasions and have no more than two drinks when you do.
#10: Wear Leak-Proof Underwear
These days, you can find many comfortable and discreet underwear to keep you feeling dry and odor-free throughout the day and night. Leak-proof underwear also helps prevent embarrassing leakage to your outer layers.
While wearing leak-proof underwear doesn't solve the issue of an overactive bladder, they do give wearers the freedom and dignity to go about their day without worry.
If our tips for overactive bladder issues don't work, you should seek medical advice from your doctor. It could be interfering with your overall health, and your doctor can work with you to find the best treatment possible, which may include OAB medication or surgery.
Why Choose ONDRwear?
Even though it's so common, no one should have to suffer through the embarrassment of urinary leakage.
Overactive bladder can be managed, and even stopped, but waiting for all these steps to finally lead to less (or no) leakage can be daunting.
That's why Dr. Jessica Lubahn, Urologist, invented ONDRwear. Not only are they super comfortable and absorbent, but these leak-proof undies are:
Eco-friendly

Machine washable

Sustainable; and

Naturally odor-free
Your favorite styles are available for both men and women, including …
Bikini

Thong

Boy short

High-waisted brief; and

Boxer brief
… and they come in all sizes. ONDRwear tosses away the idea that you need bulky incontinence pads just to leave the house. You can wear our underwear underneath anything — even your yoga pants!
While you're trying to figure out how to manage overactive bladder, ONDRwear has you covered.
The content in this blog is not intended to be a substitute for professional medical advice, diagnosis, or treatment. Always seek the advice of your physician or other qualified health provider with any questions you may have regarding a medical condition.
BACK TO Blog